We opened the 2015 with a disappointing sweep against
the Reds
.
In Game One, we gave up at least eight unearned runs, and by we, I mean Doug.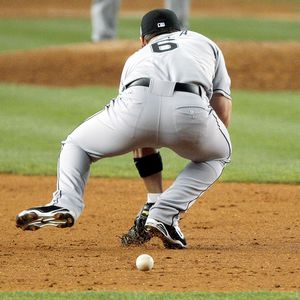 Doug
We lost 12-5 and our highlight was the first run of the
season scored
thanks to my amazing wheels, and a home run by Tommy Mitchell. We also added yet another guy named Michael, and Hanley was bringing it in the
chatter
department, which I loved.
Game Two was not much better, and we lost 8-5. Dewey had minor hiccups on the mound, but pitched a good game, and Mike MacDonald arrived like a knight in shining
armor right
before we started.
We did, however, set a new team record with I believe five double plays turned.
The full schedule has been released and it is
May 31
vs
Morning Wood @ Smith 3
June 7
vs
Courtesy Flush @ Smith 2
June 14 -
offweek
/bye
June 21
vs
Moe Howard @ Smith 1
June 28
vs
Titans @ Smith 2
July 5 - OFF for holiday
July 12
vs
Bombers @ Smith 2
I like having the Titans and Bombers at the end, when we tend to be better, unless people have moved away.
I will see everyone in two weeks.
Current Standings (according to Sully)
Morning Wood 2 - 0
Reds 2 - 0

Titans 2 - 0
Bombers 0 - 0
Courtesy Flush 0 - 2
Renegades 0 - 2
Moe Howard 0 - 2